Get A Ready-To-Go, All-In-One, Website/Blog Instantly!
Stand Out From Your Competitors And Attract Transcription Clients Now
Your website can be customized

for transcriptionists, virtual assistants or secretarial services
Your Ready-To-Go, All-In-One Website includes web design, a personalized header image, targeted content and hosting
Dear Medical Transcriptionist, General Transcriptonist, Virtual Assistant and Secretary,
Are you ready to get transcription, virtual assistant or secretarial work and anxious to start making money? If you want prospective clients to take you seriously, you'll need a website that conveys your professionalism and makes you stand out from others who are competing for the same jobs.
A professional website is a powerful tool that will:
| | |
| --- | --- |
| | Make your business look established and professional – even if you're not experienced. |
| | Provide information about your services 24-hours-a-day, seven-days-a-week. |
| | Get more work and repeat business by making it easy for clients to send you audio files 24/7. |
| | Help you reach a wider customer base. |
| | Attract customers who are ready to buy. |
NOTE: You can choose to get a general or medical transcription website, virtual assistant website or secretarial website.
I will adjust the content to fit your needs.
Have you attempted to design your own website or blog?
Are you confused and frustrated with the technical aspects of getting a website or blog? Don't know where to start, which web design software, blogging platform or design to use? Are you overwhelmed with writing content, don't know what information to provide and how to build credibility to attract clients?
Designing your own website requires a steep learning curve.
Many people get confused by domain names, web hosting, setting it all up, installing WordPress, choosing a theme, adding plugins, configuring it all, creating header images and more. Some people spend several weeks … sometimes months trying to figure out how to build their own website. And three … six … or even twelve months down the road, many feel it's too much to deal with and they just give up. They wasted valuable time and end up without a website and without clients. Even if you managed to design your own website or blog, you may not be happy with the way your site looks. Home-made websites usually don't portray a professional image and may even have a negative impact on your business. Wouldn't it be nice if you could have it all set up for you?
You don't have to do it the hard way.
With the Ready-To-Go, All-In-One Website/Blog,
you
don't

have to deal with technical issues, write content, get frustrated, waste your time or pay big money for a website.

The Ready-To-Go Website solves all the problems related to getting a website or blog. It is a complete, professionally designed website package for transcriptionists and virtual assistants that includes web design, content and hosting. You can get this Ready-To-Go Website for a fraction of the cost that you would normally pay. And the biggest benefit is that you can get your website up and running in just a couple of days and you can start contacting prospective clients immediately.
Everything Is Already Done For You:
Content … Web Design … Hosting
You don't have to write content.

All the technical issues are taken care of for you.

Includes hosting

You'll have no learning curve … no frustration … and no wasted time and can start making money now!
Here's what you'll get:
| | |
| --- | --- |
| | 5-15 Pages of Quality Content. You don't have to write a single word. Useful content that is targeted to your audience helps you build credibility and motivates prospects to do business with you. This website package includes sales copy and quality, informational content your prospects are interested in. You can choose from transcription to virtual assistant topics. See examples of the type of content you're getting. |
| | Professional Design. This professionally-designed WordPress blog will enhance your image and increase your profits. You will be proud to show your site to your prospects, clients, family, and friends. |
| | Customized Content. Your customized blog will have YOUR name, business name, domain name, tag line, phone number, listing of services, and your testimonials. You can also provide your photo, a logo and other images. |
| | A Header Image. I'll customize the header image you choose with your information. |
| | Free Hosting for One or More Years. To make your website visible on the Internet, you need hosting. This package includes top quality hosting with your own login and statistics. I'll set up the hosting for you so you don't have to deal with any of the technical issues. Typical hosting packages range from $6-$100+/month but hosting is included in this package (You can find more info about hosting in the FAQs.) |
| | Domain Name Set Up. You'll need your own domain name (www.yourname.com) so people can find your website. I'll check the availability of domain names, register the domain of your choice and point your domain name to my servers (hosting).  The domain registration fee is around $11-$12/year and is not included. You can find more info about domain names in the FAQs. |

 Payment Tutorials:
How to accept payments online without a merchant account and without paying set-up fees or monthly fees. How to set  up a Paypal Invoice and Payment Request, Google Checkout and Google Checkout Invoice.

 11 Questions You Should Ask Your Prospective Clients
to be able to provide an accurate price quote.

 A Complete Set of WordPress Video Tutorials. 
Learn how to make revisions to existing pages, add pages and much more.

 Free Internet Marketing eBook.
This book provides outstanding Internet marketing information – probably some of the best I've ever seen.

 Answers to Frequently Asked Questions About Getting a Website.
This will answer most of the questions you may have about your website. More info about domain names, hosting and more.
What Customers Say: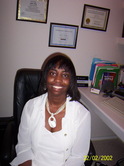 "The Ready-To-Go website has been very affordable and a great online marketing tool for my transcription business.  Leva did a wonderful job on my website and I have received lots of compliments about the website.  She was very nice and helpful throughout the whole setting up of my website.  If you want a professional looking website for your transcription or virtual assistant business, Leva would be the person that I would recommend."
Shonta Moore – Moore Transcription Services,
Houston,TX http://www.Mooretranscriptionservices.com
"Leva did a great job creating my website. She was very patient with me, as I kept changing my mind on content.  She also gave me very useful information pages and her own recommendations.  I would still be struggling getting started in my business without her.  I will continue to use her services.  I was somewhat leery the first time I used her services, but she proved to be honest and professional, and offers top notch services. Leva's Secretarial Business in a Box is also awesome!  It contained all the details of starting your secretarial business, including marketing samples and templates, and much more."
Kathy Corwin – – Irvine, California
"I purchased a Ready-To-Go secretarial website because I knew it portrays a better image for your business. I thought, "Why not purchase a website from someone who knows the ins and outs of the business you're trying to run and even knows web design?"  I am so glad I did.  I was impressed!!!!  Thank you Leva!!!"
Lisa C. Aquino, Batavia, NY
"I didn't know anything about creating a web site and didn't want to spend who-knows-how-long trying to figure out how, only to end up with something less-than-professional looking. Then I found Leva's ready-to-go turnkey transcription website. I was leery of working with someone site unseen over the Internet, but after asking a few questions, I felt Leva was someone I could trust. Working together, Leva got my site up and running in less than a week and it looks great! Leva was very patient, answered all my questions and gave great advice. I now have a professional-looking website and some excellent resources to get my virtual transcription business off and running. Thanks, Leva! Denise Hall – Hall Transcription, Port Coquitlam, BC
"The Ready-to-Go Website has been a great benefit to my business. It was very inexpensive compared to other web companies and easy for me to get set up. It contains everything I needed and more (I love the articles)! I have received a lot of compliments on this website. Thank you, Leva, for all of your help!"
Ericka Schumacher, Satellite Secretarial, LLC, Howell, MI
 Below is the typical cost to have a 10-page custom website designed
(But you're going to pay a lot LESS)
| | |
| --- | --- |
| Web design: The average price for a 10-page website is $1,100. Just go to www.fivestarwebdesign.com and see the fees I'm charging for web design. | $1,100 |
| Designing a header image: | $100 |
| Writing home page: Copywriters charge from several 100's to 1000's of dollars per hour. Just writing the copy of a home page can cost you anywhere from $300 to several thousands of dollars. | $300+ |
| Writing 9 additional pages of content. Save an additional $900+ in writing fees. | $900 |
| Hosting for one year: Save $180-$360. | $180+ |
This is a value of over $2,580+++

So, what is the cost of this Ready-To-Go, All-In-One Website?
You can get this Ready-To-Go website for far LESS money than the cost of a website somewhere else! And don't forget, you don't have to create your own content or pay for hosting. When I design custom websites, my fees are a minimum of $600 for 5 pages (or $1100 for 10 pages) and you have to write the content yourself (or pay a writer to write the content) and pay for hosting.
But your total cost for a 5-page Ready-To-Go, All-In-One Website Package, including the content, web design, a full year hosting, tutorials, ebook and resources is only $377. You can choose from several packages to fit your needs and budget. All packages include content, 1 or more years of hosting and 5 bonuses. Contact me if you have different needs or want custom web design.
You don't need to learn CSS, HTML or other coding or programming. You don't even have to write your own content. Now you have no excuses and there is nothing holding you back from getting your own transcription website.
And last: You need to act now while you still can. I don't know how long I'll make these Ready-To-Go Website Packages available. I can only build 4 sites within the next month, so this offer is only available to the first 4 people who order.  I may not be offering this special offer again, so take advantage of it now!
By placing your order now, you will have a Ready-To-Go website at a rock bottom price and you'll have an instant website to promote your services NOW! I guarantee you'll be thrilled with the site.
Dedicated to helping you succeed
Leva Duell
| | |
| --- | --- |
| P.S. 1:  | The biggest secret to success is taking action. So get your Ready-To-Go Transcription Website now… and start attracting transcription clients and make money! |
| P.S. 2: | Getting this Ready-To-Go website gives you the right to make whatever changes or additions you'd like. It's yours. You cannot however, resell or give away the Ready-To-Go site, content, or design. |
If you have questions, email me at Leva@Generaltranscriptionworkfromhome.com or call me at 760-722-0290.
Transcription Website  – Layouts – Content – FAQs – Affiliates